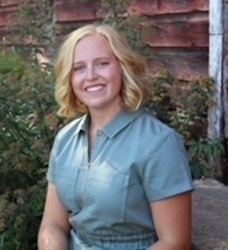 Triple A Winners Announced
Marguerite Niskanen and Cael Sjodin, high school seniors, have been selected to represen Mora High School in Region 5A in the AAA (Academics, Athletics, and Arts) Award program. For over two decades, the Minnesota State High School League has sponsored a Triple "A" Award. The purpose of such an award is to recognize and honor exceptional high school seniors who have excelled in the areas of Academics, Athletics, and the Arts.
Marguerite is the daughter of Brian and Noelle Niskanen. She is active in the band and has participated in solo/ensemble and large group. Marguerite also participates in choir, visual arts, swimming, nordic skiing, golf, and has been the track and field manager. She holds a 4.067 gpa.
Cael is the son of Mara and Ryan Sjodin; Sarah and Brandon Buckingham. While maintaining a gpa of 3.55, he is active in football and wrestling and is a six year letter winner in tennis. Cael is also in the band and has participated in solo/ensemble and large group. Cael is a section leader and has earned All Conference honors.
Triple "A" Award recipients are selected by a multi-level process involving the league's member schools and administrative regions. League officials will announce the four award recipients (a girl and a boy from Class "A" and Class "AA" schools) in March. The recipients are usually recognized at an on-court recognition ceremony held at the State Basketball Tournament. Each award recipient will receive a four-year renewable scholarship for $1,000.