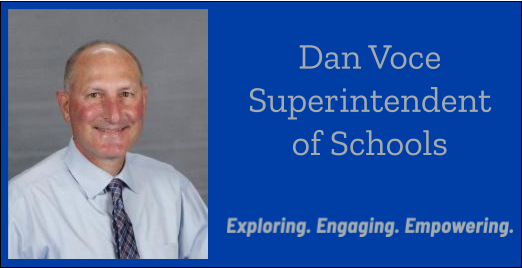 I am honored and excited to serve as the next superintendent of the Mora School District. I wanted to introduce myself and give you some background information. I grew up and graduated high school in Princeton, Minnesota. After graduating high school, I attended Gustavus Adolphus College in St. Peter, MN where I earned my Bachelors of Arts degree in history and social studies education. I was a teacher and coach in Rush City for a year before accepting a position in Pine City teaching social studies and coaching varsity hockey and golf. I stayed in Pine City for 17 years before moving back to Princeton where I was an Assistant Principal and Principal for the past 12 years. The 2021-22 school year will be my 31st year in education. I have found the profession that I love and therefore have never worked a day in my life. I enjoy being around students and educators who enjoy working with students and each other.
My wife Kris and I have been married for 30 years, and we have two grown children. My two sons are Daniel, 25, and Lucas, 21, and they both are in the biomedical engineering field. My hobbies include spending time with family, traveling, fishing, biking, golfing, sports, reading, hiking, running, coaching, and community service.
The next chapter in my life begins working in the Mora School District with a dedicated and talented team of educators and support staff. Fortunately, I have been able to spend time in Mora the last two months and have met many people in the schools. I have been so impressed with the commitment and dedication of the Mora Schools staff and the community. I look forward to meeting more of the parents and community members that make Mora a very special place to live and work.