Questions About COVID-19?
Email the Minnesota Department of Health
health.covid19@state.mn.us Or call the MDH Hotline 651-201-5414
Our offices are also here to help! 320-679-6200 Mora Elementary: x4007 High School: x5032
To reach out directly to our school nurse, Shauna Cronk, LSN please call 320-679-6232 or send her an email at shaunacronk@moraschools.org.
Getting Tested for COVID-19
The Minnesota Department of Health has compiled information about who should get tested, COVID-19 testing locations, FAQs, and the Safe Learning Plan.

You can find testing locations across the state here.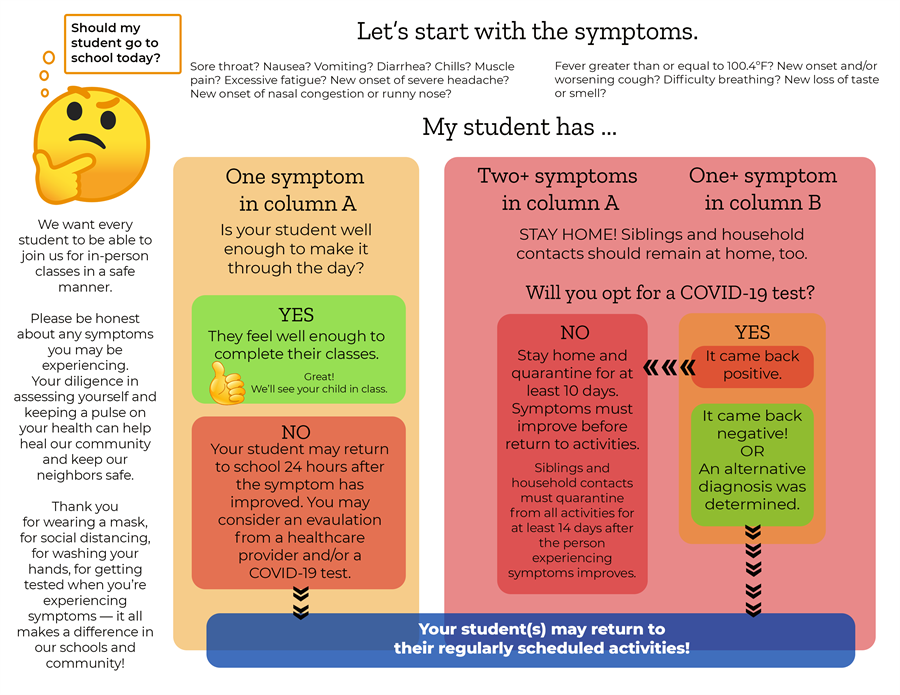 Please Note: Like the COVID-19 situation, this Decision Tree is dynamic and ever-changing. Our health offices abide by Minnesota State guidance, and, as a result, our recommendations adapt.
We are here to help you interpret the tree! Our number is 320-679-6200;
the elementary health office extension is 4007, and the high school health office extension is 5032.
Additionally, if your student is experiencing the above symptoms, please notify our offices!
If the symptoms your student is experiencing affect their ability to complete schoolwork,
please report this to the appropriate school office for their attendance record.